Meet the team
Josef and Katalin Vizkelety – Principal Dentists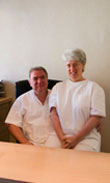 Josef and Katalin are originally from Hungary, and qualified from Budapest Semmelweis Dental School – Katalin in 1979 and Josef a year later. They have worked together ever since, first in Hungary and Germany, and then moving to England in 2003. Having previously set up their own practice in Germany, they are delighted to have taken over Cathedral Dental Practice in 2006.
The couple have attended many post-graduate courses to further enhance their dental skills, and remain committed to their ongoing education. Courses attended include cosmetic dentistry, oral surgery, periodontology (advanced gum care), prosthodontics (tooth replacements), implantology, TMJ treatments (to help solve problems with the jaw joint), endodontics (root canal therapy), functional orthodontics (tooth straightening) and whole mouth restoration (cosmetic and functional restoration). They have also completed many courses focussing on complementary health, including Homeopathy, Kinesiology, EAV (electroacupuncture) called after Dr Voll, Luscher Colourtherapy Test, Nutrition and Traditional Chinese Medicine.
Both Josef and Katalin are registered with the General Dental Council (GDC). Josef's GDC number is 82709 and Katalin's GDC number 82710.
In his spare time, Josef enjoys a game of chess; he also plays the guitar and the accordion. In addition he has a great love of poetry, both reading the work of others and writing his own.
Katalin also has many interests outside of work. These include knitting, looking after her garden and growing flowers. She also enjoys taking plenty of fresh air with long country walks.
Caroline Allen – Practice Manager

Caroline joined the practice in 1988 as a receptionist but over the years has learnt every aspect of running a successful dental practice. She is at her best when helping patients who are anxious and nervous.
A lot of people have an ingrained fear of the dentist and Caroline tries to alleviate those old fears by making them feel relaxed and confident with the situation they are in. Outside of dentistry Caroline is happiest in her garden. However, she also goes to the gym and enjoys off-road cycling but only on a hot day and only when there is a pub at the end!