Specialist treatment
We offer a wide range of specialised treatments to our patients, including gum treatments, implants and orthodontics. This means that our patients are able to have the treatment they need without having to either join lengthy NHS waiting lists, or having to travel to a specialist at a different practice.
Our principal dentist Josef has attended many courses in all these areas and enjoys expanding and updating his knowledge. For more information on the treatments please see below;
Orthodontics

Orthodontics is a way of straightening crooked and/or over-crowded teeth by using braces to gently and gradually pull them into position.
At Cathedral Dental Practice in Portsmouth, we offer orthopaedics and orthodontics to both children and adults.
Our adult patients are particularly keen on our virtually invisible treatments, as these enable you to have your teeth straightened without feeling self-conscious about the braces.
Our most popular method is SMILE TRUE, transparent aligners which fit over the teeth and are virtually invisible. They can be removed for cleaning and eating, which makes them particularly convenient.
We also offer functional orthodontics without extractions, with added complementary therapies.
In all cases, we will only extract teeth for orthodontic purposes if it is absolutely necessary. In most cases, we find extraction is not needed.
We also offer extraction-free full face orthopaedic orthodontics for adults and children. This is achieved by using cranially friendly appliance systems and working with osteopaths and chiropractors to achieve facial to skull to skeleton balance.
Insignia smile design
Unlike traditional orthodontics and their 'one size fits all' approach, Insignia™ Advanced Smile Design customises braces and wires to you. The result is a radiant smile that reflects your individuality.
The most advanced technology: Like fingerprints, your smile is unique. And so is Insignia™, a computerised system that combines digital treatment planning with specially made brackets and wires tailored to your specific dental anatomy.
The process is simple. Following an initial examination, we will take an impression of your teeth for the Insignia™ smile design lab. Sophisticated imaging software then creates a 3D representation of your bite while braces and wires are custom-fabricated with your exact prescription.
Fast, comfortable treatment: Insignia™ treatment is tailored to the individual patient. Each aspect is precisely calculated to affect tooth movement in the most optimal way, resulting in fewer appointments and exceptional comfort. And because treatment is 100% personalised, patients often see a reduction in the amount of time they would ordinarily wear braces.
Insignia™ is ideal for everyone – from the adult with the hectic schedule to the teen who wants to be out of braces and on with their smile.
Precise, predictable results: Now you can see your end result before starting treatment. Utilising the 3D representation of your exact tooth positioning, Insignia™ calculates the most optimal orthodontic plan for you. You're able to view, with precision accuracy, the correct curvature and width of the best smile specifically proportioned to your facial features. Unlike off-the-shelf braces and wires, a treatment plan developed with Insignia™ creates a layer of meticulous detail that provides fast, accurate and predictable results.
The Damon® system
With the Damon® System, treatment time is typically shorter than with traditional braces. Shorter treatment time means fewer appointments and a beautiful smile...faster. You may be surprised how fast.
The Damon® System employs a unique treatment philosophy that goes beyond straight teeth to create broad, beautiful smiles.
We take into account each patients' face, profile and, other factors, anticipating what patients will look like in their 40's, 50's and beyond. This clinically proven treatment aligns teeth and enhances facial aesthetics – usually without extractions.
The days of having braces tightened are over. The Damon® System uses tie-less brackets that reduce the pressure on your teeth, allowing them to move more comfortably to their correct positions. This innovative approach to orthodontics ensures greater comfort throughout treatment.
Damon® System braces use a passive slide mechanism to maintain archwires within the bracket, allowing them to move more freely. This reduces friction and binding so we can move teeth quickly and more comfortably.
Other styles of braces use elastics or active clips that "bind" archwires in place. Elastics and active clips can act like parking brakes, resulting in friction and pressure, making treatment slower and less comfortable.
Straight teeth and a beautiful smile can enhance self-esteem and self-confidence at any age, plus improve your oral health.
Example cases - before and after images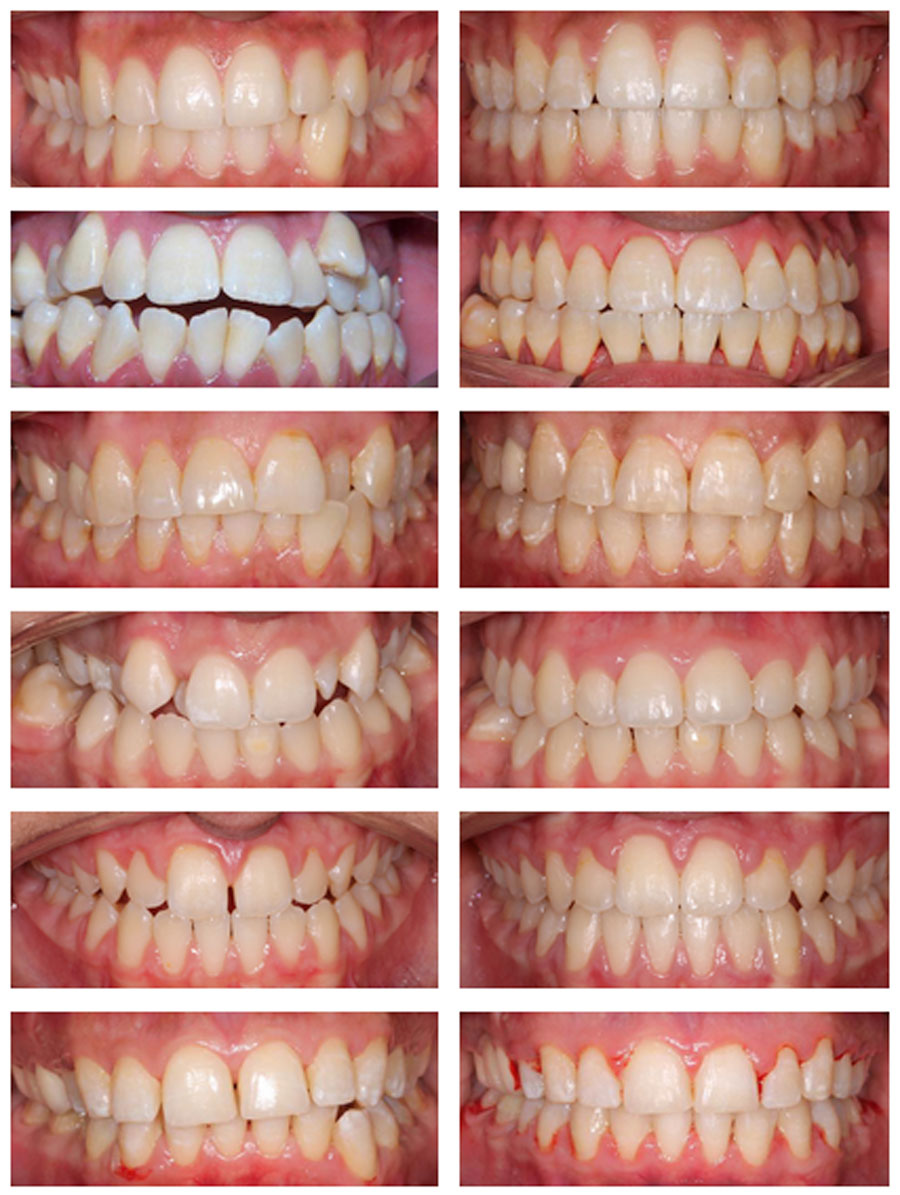 Periodontics

As holistic practitioners we believe that the health of the gums and supporting tissues is integral to the health of the mouth and general well- being of the individual and creates the foundation upon which all restorative treatment succeeds or fails.
Gum disease typically starts as inflammation known as gingivitis and may progress to its more advanced form known as periodontitis where loss of bone supporting the teeth may be seen. When this is present periodontal treatment is essential particularly prior to restorative treatment.
Josef is especially interested in periodontology and will provide treatment when necessary. Our hygienist will supply you with detailed instruction in oral hygiene, the deep cleaning of tooth surfaces and long term follow-up.
TMJ

Problems with the temporo-mandibular joint (TMJ) – i.e. your jaw – can lead to other problems including headaches, and neck, shoulder or ear pain. If you suffer with regular symptoms like these, it is well worth discussing them with us – in many cases we can help relieve or end them.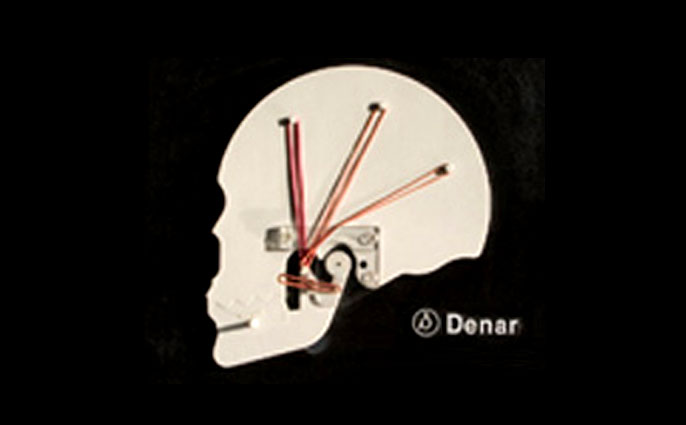 By normal/correct bite level the jaw joint is in central position.
Comfortable, functional dentures

Dentures are not always easy to get on with - they can be uncomfortable, move around in your mouth and make eating and talking difficult. However today's modern dentures and techniques mean you no longer have to put up with uncomfortable and perhaps unrealistic dentures that can slip out of place when eating or talking.
In some cases, we can use strong and permanent dental implants to hold dentures firmly in place, allowing you to eat and talk comfortably and without embarrassment. They are invisible, and combined with today's modern denture-making techniques; give you a natural-looking and confident smile.
For some patients, we may recommend a telescopic denture, which is the new technique to restore new teeth for patients who have not lost all of their teeth. It consists of a double crown system known as "the telescopic". The procedure involves fitting the remaining teeth with inner zirconia/ceramic crowns, followed by outer crowns as part of an over-denture that can be removed by the patient. This technique ensures that bite stress is distributed evenly between each tooth, protecting the remaining teeth and making the end result to look natural.