Smile with confidence
Have you ever felt self-conscious about your smile? Do you always smile with your mouth closed, or cover your mouth while you are talking? If you feel your teeth are less than perfect, we can help.
We offer a wide range of cosmetic dental treatments that can solve a range of problems such as stained or discoloured teeth, chips, cracks and gaps, and crooked or missing teeth. To discover how we can help you, please click on the description of the smile imperfection which most applies to you.
Stained or yellowing teeth

Smoking, red wine, tea and coffee all take their toll on teeth, leaving stains that become more obvious over the years. Getting older also makes its mark, as teeth gradually darken with age. We recommend professional tooth cleaning to help remove these stains.
Professional tooth cleaning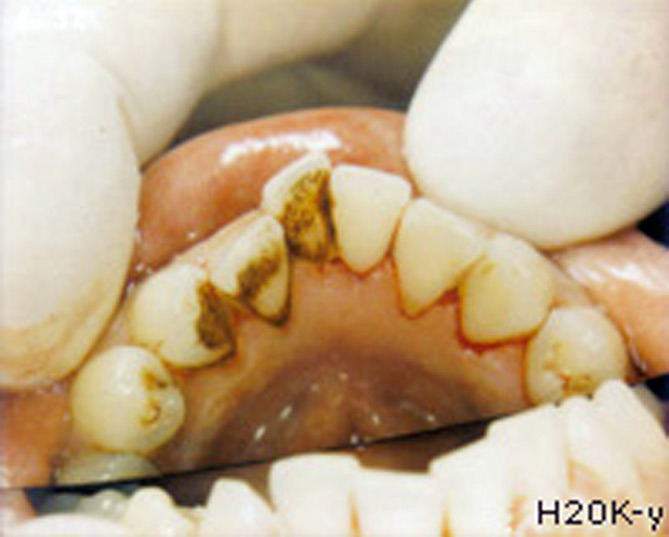 Tooth whitening can help remove those tell-tale signs of ageing, lightening your teeth and removing stains, leaving you with a sparkling, rejuvenated smile.
Chipped or cracked teeth

Teeth can often suffer minor damage such as small chips or surface cracks, which can mar the way your smile looks. These can easily be disguised, either by bonding or veneers.

Gaps between teeth

Many people have small gaps between their front teeth. If your gap bothers you, we can easily fill or disguise it using bonding or veneers.

Crooked or overcrowded teeth

It is never too late to have crooked or overcrowded teeth straightened. Veneers can solve the problem in some cases, or we can arrange orthodontics (tooth straightening) for children and adults.
Arch expansion for 44 year old female patient

Missing teeth

Whether you have just one tooth missing, a few or virtually all of them, we can help you to get your smile back. Dentures are a common option, as are dental bridges, where a false tooth or teeth are permanently anchored to neighbouring teeth. Dental implants are soaring in popularity because they are so strong, realistic and permanent. As well as providing an excellent method of replacing teeth, they can also provide strong foundations for dentures, making them much more comfortable and easy to wear.
Smile makeovers

Having a smile makeover is a great way of knowing you really can smile with confidence and of getting any treatments you need done at the same time. Smile makeovers dont need to be as drastic or expensive as those featured on TV – in fact you might be surprised at just how achievable it is! All you need to do is book a consultation appointment with us, so we can discuss how we can best achieve your dental goals, and we can then put together a treatment plan.